Builders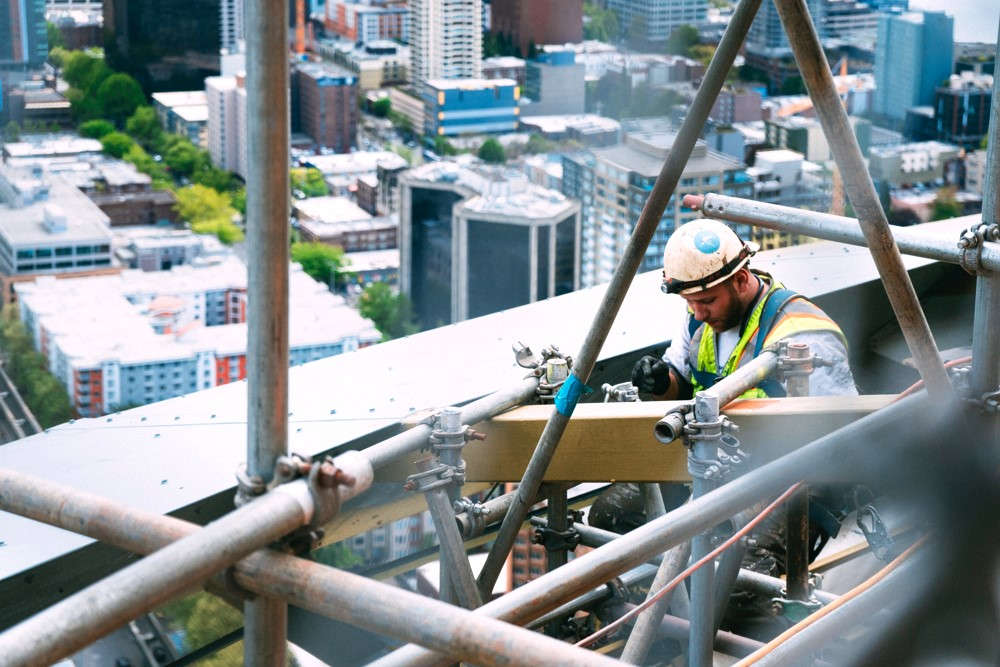 Construction health and safety documents for builders
If you're a builder or construction company and are being asked to provide risk assessments, method statements, RAMs or health and safety documents and want the simplest, most cost-effective solution: Look no further. Our health and safety documents are second to none and all the documents below are tailored specifically for the construction industry, whether you're a small building company or a larger outfit, our health and safety documents suit all.
Why choose us?
Because once you buy a health and safety document from us it's yours for life. All of our documents are in Word™ so are completely editable allowing you to add your company details and logo with ease. The added bonus is that if and when health and safety law changes, we amend your documents for free so that each time you download them you are getting the most up to date version.
Health and safety document packages
HSEDocs offers a health and safety documents pack for the construction industry, However, if you'd prefer to put your own package together, simply choose the individual documents that you require. As always, if you need any help or advice please get in touch. We're happy to help.
Accidents happen all the time in the construction industry, but it doesn't have to be a health and safety nightmare. Being aware of, and utilising health and safety documents in the following categories will help to minimise risks on-site:
- Preventing slips, trips and falls
- COSHH
Our team of highly trained staff have over 20 years' experience working in the health and safety industry, so you can be assured that our health and safety documents are clear, concise, and easy to understand. But, if you need more information, or assistance in choosing the right documents for your needs, we're only a phone call away. Get in touch with us today.
| | | | |
| --- | --- | --- | --- |
| Construction health and safety pack. BEST OFFER | Read More » | £245.00 | |
| Builders health and safety pack. BEST OFFER | Read More » | £165.00 | |
| Plumbers and gas fitters health and safety pack. BEST OFFER | Read More » | £55.00 | |
| Construction company health and safety policy | Read More » | £85.00 | |
| Modern slavery policy | Read More » | £8.99 | |
| Civil engineering health and safety pack. BEST OFFER | Read More » | £75.00 | |
| Demolition health and safety pack. BEST OFFER | Read More » | £35.00 | |
| Construction company employee handbook | Read More » | FREE | DOWNLOAD |
| Pumping, pouring and finishing concrete Risk Assessment | Read More » | £8.99 | |
| Ceramic tiling Risk Assessment | Read More » | £8.99 | |
| Electrical installations and maintenance Risk Assessment | Read More » | £8.99 | |
| Rendering Risk Assessment | Read More » | £8.99 | |
| Rainwater goods Risk Assessment | Read More » | £8.99 | |
| Multi finish Risk Assessment | Read More » | £8.99 | |
| Working at height Risk Assessment | Read More » | £8.99 | |
| Underpinning Risk Assessment | Read More » | £8.99 | |
| Manual Handling Risk Assessment | Read More » | £8.99 | |
| Builders clean Risk Assessment | Read More » | £8.99 | |
| Painting and decorating internal Risk Assessment | Read More » | £8.99 | |
| Laying slabs Risk Assessment | Read More » | £8.99 | |
| 1st and 2nd fix carpentry Risk Assessment | Read More » | £8.99 | |
| 1st and 2nd fix plumbing Risk Assessment | Read More » | £8.99 | |
| Block paving Risk Assessment | Read More » | £8.99 | |
| Bonding coat plaster Risk Assessment | Read More » | £8.99 | |
| Brick and blockwork Risk Assessment | Read More » | £8.99 | |
| Fencing Risk Assessment | Read More » | £8.99 | |
| Floor tiling Risk Assessment | Read More » | £8.99 | |
| Hanging wallpaper Risk Assessment | Read More » | £8.99 | |
| Kitchen fitting Risk Assessment | Read More » | £8.99 | |
| Roof timbers Risk Assessment | Read More » | £8.99 | |
| Timber partition wall Risk Assessment | Read More » | £8.99 | |
| Underground drainage. Risk Assessment | Read More » | £8.99 | |
| UPVC door and frame Risk Assessment | Read More » | £8.99 | |
| UPVC doors, windows, soffit and fascia Risk Assessment | Read More » | £8.99 | |
| UPVC soffit and fascia Risk Assessment | Read More » | £8.99 | |
| UPVC window fitting Risk Assessment | Read More » | £8.99 | |
| Cable installation Risk Assessment | Read More » | £8.99 | |
| Cement mixer Risk Assessment | Read More » | £8.99 | |
| Dig out trenches Risk Assessment | Read More » | £8.99 | |
| Asbestos awareness Risk Assessment | Read More » | £8.99 | |
| Hanging Doors Risk Assessment | Read More » | £8.99 | |
| Paint Sprayer Risk Assessment | Read More » | £8.99 | |
| Young persons construction risk assessment | Read More » | £8.99 | |
| Timber partitioning Method Statement | Read More » | £8.99 | |
| Ceramic wall tiles Method Statement | Read More » | £8.99 | |
| Hack off plaster to walls and ceilings Method Statement | Read More » | £8.99 | |
| Laminate flooring Method Statement | Read More » | £8.99 | |
| Ceramic floor tiles Method Statement | Read More » | £8.99 | |
| Brick and block work Method Statement | Read More » | £8.99 | |
| Fitting timbers for a flat roof Method Statement | Read More » | £8.99 | |
| Hanging doors Method Statement | Read More » | £8.99 | |
| UPVC door fitting Method Statement | Read More » | £8.99 | |
| UPVC soffit and fascia Method Statement | Read More » | £8.99 | |
| Builders clean Method Statement | Read More » | £8.99 | |
| Renew concrete floor Method Statement | Read More » | £8.99 | |
| Underpinning Method Statement | Read More » | £8.99 | |
| Fencing Method Statement | Read More » | £8.99 | |
| Demolish wall and footings Method Statement | Read More » | £8.99 | |
| Breaking out concrete floor Method Statement | Read More » | £8.99 | |
| Boarding and skimming Method Statement | Read More » | £8.99 | |
| Bonding and skimming Method Statement | Read More » | £8.99 | |
| Rendering Method Statement | Read More » | £8.99 | |
| UPVC windows fitting Method Statement | Read More » | £8.99 | |
| Cleaning brickwork Method Statement | Read More » | £8.99 | |
| Block paving Method Statement | Read More » | £8.99 | |
| Painting Method Statement | Read More » | £8.99 | |
| Dig out and concrete foundations and trenches Method Statement | Read More » | £8.99 | |
| Hedge cutting, strimming and lawn mowing Method Statement | Read More » | £8.99 | |
| Electrical rewire and new installations Method Statement | Read More » | £8.99 | |
| Kitchen fitting Method Statement | Read More » | £8.99 | |
| Plumbing a bathroom suite Method Statement | Read More » | £8.99 | |
| Plumbing General Method Statement | Read More » | £8.99 | |
| Rainwater goods Method Statement | Read More » | £8.99 | |
| Fitting lintels Method Statement | Read More » | £8.99 | |
| Hanging wallpaper Method Statement | Read More » | £8.99 | |
| Marking and fixing Method Statement | Read More » | £8.99 | |
| Pointing and repointing brickwork Method Statement | Read More » | £8.99 | |
| Underground drainage Method Statement | Read More » | £8.99 | |
| Screed floor Method statement | Read More » | £8.99 | |
| Power flushing central heating method statement | Read More » | £8.99 | |
| Connect to gas main method statement | Read More » | £8.99 | |
| Maintenance and service of central heating system method statement | Read More » | £8.99 | |
| Carpet fitting method statement | Read More » | £8.99 | |
| Rain water goods Method Statement | Read More » | £8.99 | |
| Electrical testing Method Statement | Read More » | £8.99 | |
| Pressure washer method statement | Read More » | £8.99 | |
| clean gutters method statement | Read More » | £8.99 | |
| Ceramic tile adhesive COSHH assessment form | Read More » | £8.99 | |
| Free COVID 19 Risk Assessment | Read More » | FREE | DOWNLOAD |
| Ceramic tile grout COSHH assessment form | Read More » | £8.99 | |
| Contact adhesive COSHH assessment form | Read More » | £8.99 | |
| Dry wall adhesive COSHH assessment form | Read More » | £8.99 | |
| Diamond eggshell paint. Water based. COSHH assessment form | Read More » | £8.99 | |
| Vinyl matt paint. Water based. COSHH assessment form | Read More » | £8.99 | |
| Vinyl silk paint. Water based. COSHH assessment form | Read More » | £8.99 | |
| Pollyfilla COSHH assessment form | Read More » | £8.99 | |
| Tanking slurry COSHH assessment form | Read More » | £8.99 | |
| Patio and driveway sealer COSHH assessment form | Read More » | £8.99 | |
| Hand wipes COSHH | Read More » | £8.99 | |
| WD40 COSHH assessment form | Read More » | £8.99 | |
| Intumescent sealant COSHH assessment form | Read More » | £8.99 | |
| Multi surface cleaner COSHH assessment form | Read More » | £8.99 | |
| Detergent COSHH assessment form | Read More » | £8.99 | |
| Disinfectant COSHH assessment form | Read More » | £8.99 | |
| Glass cleaner COSHH assessment form | Read More » | £8.99 | |
| High gloss paint. Oil based. COSHH assessment form | Read More » | £8.99 | |
| Metal primer paint. Zinc Phosphate. COSHH assessment form | Read More » | £8.99 | |
| Primer sealer paint.Oil based. COSHH assessment form | Read More » | £8.99 | |
| Crown undercoat (oil based) COSHH Assessment Form | Read More » | £8.99 | |
| Crown gloss (Oil based) COSHH Assessment Form | Read More » | £8.99 | |
| Crown acrylic gloss COSHH Assessment Form | Read More » | £8.99 | |
| Crown acrylic undercoat primer COSHH Assessment Form | Read More » | £8.99 | |
| Crown trade satin COSHH Assessment Form | Read More » | £8.99 | |
| Crown Vinyl matt COSHH Assessment Form | Read More » | £8.99 | |
| Decorators caulk COSHH assessment form | Read More » | £8.99 | |
| Lead free solder COSHH assessment form | Read More » | £8.99 | |
| Lead solder COSHH assessment form | Read More » | £8.99 | |
| Dust COSHH assessment form | Read More » | £8.99 | |
| Eggshell finish paint. Oil based. COSHH assessment form | Read More » | £8.99 | |
| Exterior undercoat paint. Oil based. COSHH assessment form | Read More » | £8.99 | |
| Fernox central heating cleaner COSHH assessment form | Read More » | £8.99 | |
| Furniture polish COSHH assessment form | Read More » | £8.99 | |
| Grab adhesive COSHH assessment form | Read More » | £8.99 | |
| Grab adhesive, solvent free COSHH assessment form | Read More » | £8.99 | |
| Mitre adhesive COSHH | Read More » | £8.99 | |
| Multi finish plaster COSHH assessment form | Read More » | £8.99 | |
| Quick drying exterior gloss paint. Water based. COSHH assessment form | Read More » | £8.99 | |
| Quick drying wood primer and undercoat. Water based. COSHH assessment form | Read More » | £8.99 | |
| Satin paint. Oil based. COSHH assessment form | Read More » | £8.99 | |
| Smooth masonry paint. Water based. COSHH assessment form | Read More » | £8.99 | |
| Soldering flux paste COSHH assessment form | Read More » | £8.99 | |
| Solvent cleaner COSHH assessment form | Read More » | £8.99 | |
| Stain block paint. Water based. COSHH assessment form | Read More » | £8.99 | |
| Sugar soap COSHH assessment form | Read More » | £8.99 | |
| Thinners COSHH assessment form | Read More » | £8.99 | |
| Thistle bonding coat COSHH assessment form | Read More » | £8.99 | |
| Vinyl soft sheen paint. Water based. COSHH assessment form | Read More » | £8.99 | |
| Wallpaper adhesive COSHH assessment form | Read More » | £8.99 | |
| Rockwool internal cavity wall insulation COSHH Assessment Form | Read More » | £8.99 | |
| Extraction Plus Carpet Cleaner COSHH assessment form | Read More » | £8.99 | |
| Grout cleaner COSHH Assessment form | Read More » | £8.99 | |
| Brick and patio cleaner (Acid) COSHH assessment form | Read More » | £8.99 | |
| Brick and patio cleaner (Eco) COSHH assessment form | Read More » | £8.99 | |
| Cement and brick dust COSHH assessment form | Read More » | £8.99 | |
| Cement dye COSHH assessment form | Read More » | £8.99 | |
| Chemical resin COSHH assessment form | Read More » | £8.99 | |
| Concrete hardener and sealer COSHH assessment form | Read More » | £8.99 | |
| Diesel COSHH assessment form | Read More » | £8.99 | |
| Expanding foam COSHH assessment form | Read More » | £8.99 | |
| Expanding foam, fire rated COSHH assessment form | Read More » | £8.99 | |
| Glyphosate Weed Killer COSHH Assessment Form | Read More » | £8.99 | |
| Heavy duty degreaser COSHH assessment form | Read More » | £8.99 | |
| Hydrated lime COSHH assessment form | Read More » | £8.99 | |
| Hydraulic lime COSHH assessment form | Read More » | £8.99 | |
| Line marking paint COSHH assessment form | Read More » | £8.99 | |
| Machine Oil COSHH assessment form | Read More » | £8.99 | |
| Mortar plasticiser COSHH assessment form | Read More » | £8.99 | |
| Mortar waterproofer COSHH assessment form | Read More » | £8.99 | |
| Petrol COSHH assessment form | Read More » | £8.99 | |
| Two stroke oil COSHH assessment form | Read More » | £8.99 | |
| Latex screed COSHH assessment form | Read More » | £8.99 | |
| Silicone sealant COSHH assessment form | Read More » | £8.99 | |
| Floor tile adhesive acrylic COSHH assessment form | Read More » | £8.99 | |
| Carpet jointing tape COSHH assessment | Read More » | £8.99 | |
| Spray contact adhesive COSHH assessment | Read More » | £8.99 | |
| Glass Cleaner Jangro COSHH Assessment Form | Read More » | £8.99 | |
| TEROSON MS 930 WH Sealant COSHH Assessment Form | Read More » | £8.99 | |
| Soudafoam (Arco Fire rated foam) COSHH Assessment Form | Read More » | £8.99 | |
| Solvent cement (Kalsi Plastics) COSHH assessment form | Read More » | £8.99 | |
| PTFE SDS Polytetrafluoroethylene COSHH Assessment Form | Read More » | £8.99 | |
| Propane COSHH Assessment Form | Read More » | £8.99 | |
| Permabond A115 Adhesive COSHH Assessment Form | Read More » | £8.99 | |
| Oxygen COSHH Assessment Form | Read More » | £8.99 | |
| MAPP gas COSHH Assessment Form | Read More » | £8.99 | |
| Genius Gun Gap-Filler COSHH Assessment Form | Read More » | £8.99 | |
| FloPlast solvent cement COSHH Assessment Form | Read More » | £8.99 | |
| Expanding Foam Gun Grade fire rated COSHH Assessment Form | Read More » | £8.99 | |
| Expanding foam fire rated Hand Held COSHH Assessment Form | Read More » | £8.99 | |
| Contact adhesive Tilco COSHH Assessment Form | Read More » | £8.99 | |
| Armaflex 520 COSHH Assessment Form | Read More » | £8.99 | |
| Acetylene COSHH Assessment Form | Read More » | £8.99 | |
| Solvent cement ABS COSHH Assessment Form | Read More » | £8.99 | |
| White spirit COSHH Assessment Form | Read More » | £8.99 | |
| NITOSEAL MS60_COSHH Assessment Form | Read More » | £8.99 | |
| Flexyfix COSHH Assessment Form | Read More » | £8.99 | |
| STOPGAP 500 MICROCOAT COSHH Assessment Form | Read More » | £8.99 | |
| STOPGAP 1200 PRO LIQUID COSHH Assessment Form | Read More » | £8.99 | |
| STYCCOBOND F3 COSHH Assessment Form | Read More » | £8.99 | |
| STYCCOBOND F12 COSHH Assessment Form | Read More » | £8.99 | |
| STYCCOBOND F41 COSHH Assessment Form | Read More » | £8.99 | |
| STYCCOBOND F44 COSHH Assessment Form | Read More » | £8.99 | |
| STYCCOBOND F54 COSHH Assessment Form | Read More » | £8.99 | |
| STYCCOBOND F60 COSHH Assessment Form | Read More » | £8.99 | |
| STYCCOSEAL COSHH Assessment Form | Read More » | £8.99 | |
| UZIN KE 2000 S COSHH Assessment Form | Read More » | £8.99 | |
| STOPGAP 1200 PRO POWDER COSHH Assessment Form | Read More » | £8.99 | |
| Sika Level 20 Levelling Compound COSHH Assessment Form | Read More » | £8.99 | |
| Armstead AM306 floor paint COSHH Assessment Form | Read More » | £8.99 | |
| Nilco Antibacterial Cleaner and Sanitizer COSHH Assessment Form | Read More » | £8.99 | |
| AUTOSOL Chrome and Metal Polish COSHH assessment form | Read More » | £8.99 | |
| Armstead AM306 floor paint COSHH Assessment Form | Read More » | £8.99 | |
| Sika Level 20 Levelling Compound COSHH Assessment Form | Read More » | £8.99 | |
| Zep Commercial® Graffiti Remover COSHH Assessment Form | Read More » | £8.99 | |
| Kilrock - Blast Away Mould COSHH Assessment Form | Read More » | £8.99 | |
| Polyurethane adhesive COSHH assessment form | Read More » | £8.99 | |
| Silicone spray COSHH assessment form | Read More » | £8.99 | |
| STYCCOBOND F74 COSHH Assessment Form | Read More » | £8.99 | |
| STYCCOBOND F84 COSHH Assessment Form | Read More » | £8.99 | |
| CT1 Multisolve solvent spray COSHH assessment | Read More » | £8.99 | |
| R32 Difluoromethane | Read More » | £8.99 | |