What is the Importance of Food Hygiene Posters?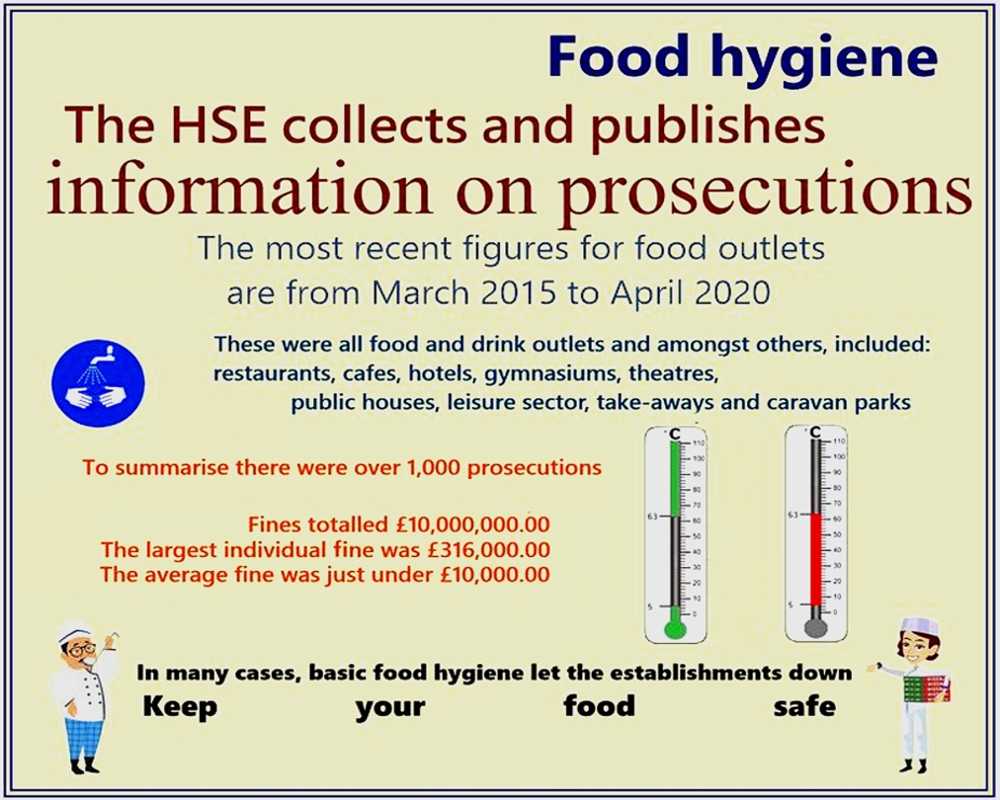 What is the Importance of Food Hygiene Posters?
When working in a kitchen, cafe, or other food preparation areas, you might see several food hygiene and safety posters around. But why are they important? Are they even a legal requirement? In this article, we'll explore why food hygiene posters are used, which ones you must display, and how they'll benefit your organisation.
So, why are food hygiene posters important? According to the Health and Safety Regulations, safety signs are required where there are risks present, such as in a kitchen. This ensures that staff follow the correct procedures, encouraging safe food practices and eliminating risks to employees and customers. Food hygiene posters also eliminate the need for unnecessary communication.
Read on to find out more about why food hygiene posters are important, and which food safety signs you should display on your premises.
Why are Food Hygiene Posters Important?
If you've taken a Food Hygiene course at any point, you'll understand why food hygiene posters and signs are important for non-verbal communication within a food preparation environment.
According to The Health and Safety Regulations 1996, "safety signs and signals are required where a significant risk to the health and safety of employees and others remains." There are several significant hazards in catering environments, whether that be to employees or the customers consuming your food. Signs are in place to help you avoid hazards where possible and to maintain suitable safety procedures.
What is the Purpose of Food Safety Signs?
Not only are food hygiene and safety posters required by law, but they come with several benefits to you as a business owner or employee. We've outlined just some of the reasons below:
Maintains Standards
If we're being completely honest, some of your staff won't go out of their way to revise the best practices when it comes to food hygiene and safety. By installing food hygiene posters around your kitchen, you can easily place hygiene at the forefront of your staff's mind, and quickly remind them of proper storage, preparation techniques, designated tools and areas, and more.
If you're interested in finding out more about what the basic food hygiene rules are, why not explore one of our recent blogs? In the article linked, we discuss the Four Cs of food hygiene, how long food hygiene training lasts, and more.
Saves Time
By installing easy-to-read food hygiene posters within your premises, your staff will be able to easily identify key areas and remind themselves of key information without needing to ask another staff member, whether that be a team leader, kitchen manager, or yourself. This saves employees from flicking through long manuals or instructions, and, in turn, speeds up processes and helps eliminate time-wasting tasks.
Makes Content Easy To Understand
Some of your staff are visual learners, and they might learn better from colourful and straightforward diagrams of key operations. Posters might only contain simple instructions, but they serve as a reminder for the smaller details of the process without being overly wordy. In turn, your staff will have an improved understanding and make fewer mistakes, which contributes to your overall kitchen hygiene, as well as saving time and money.
If you are considering undertaking a course to better understand food hygiene, you'll benefit from reading one of our recent articles where we cover commonly asked questions surrounding food hygiene certificates, including when they expire, if they should be renewed, and what level of certification you need.
What Do Food Hygiene Posters Look Like?
Food hygiene posters will use bold, eye-catching colours, minimal text, simple diagrams, and images where appropriate. Elements are kept as simple as possible to make the food hygiene posters easier to understand by everyone.
Kitchen safety signs can be used to demonstrate a number of safety elements within a kitchen, which could include:
Designated areas for preparing fresh, raw, or cooked ingredients
How and where to dispose of waste
Common food allergens
Where to store things in a refrigerator (e.g. raw meat at the bottom, away from finished products)
How to properly wash your hands
Common food allergens
Key areas for cooking, preparation, and plating up dishes
Where to find fire extinguishers or emergency first aid kits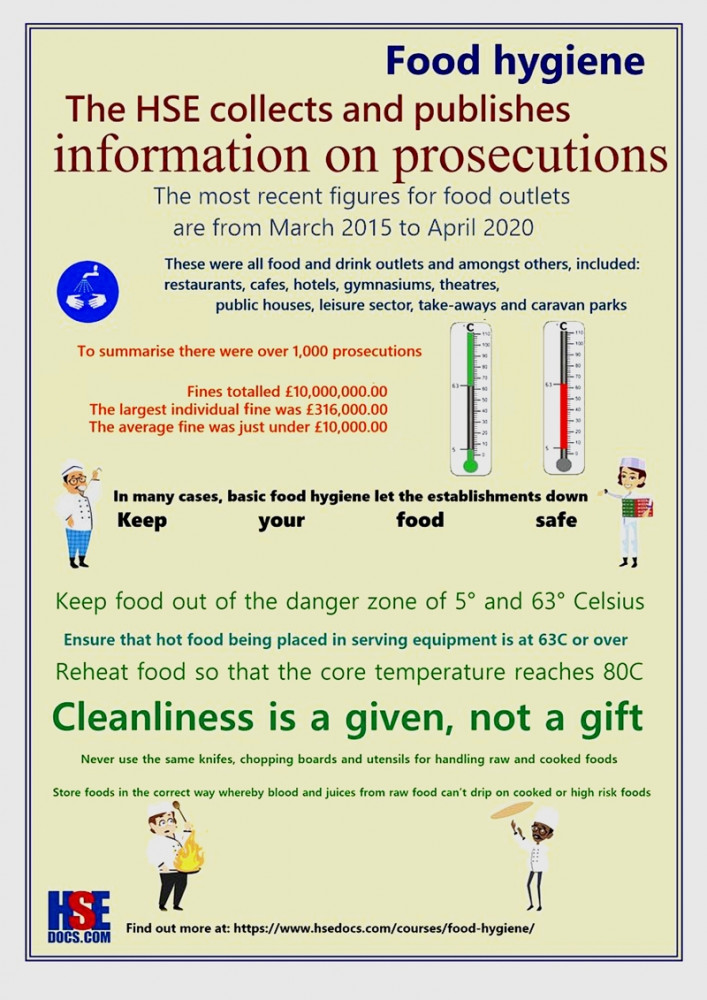 Which Signs Do You Need in a Kitchen?
Some health & safety signs are a legal requirement, whereas others are simply there to offer friendly reminders to your staff. Below, we've outlined some of our recommendations for the signs you should display within your food preparation area and why.
Food Safety Signs
Many health and safety signs that fall under this category, but at a minimum, we'd recommend displaying signs for:
Designated sinks for hand washing and food preparation
Food storage, chilling, and defrosting guidelines
Designated food preparation areas
Chopping board and knife colour coding
How to use a deep fat fryer, dishwasher, or other kitchen equipment safely
Warnings for hot water or oil
When a hair net must be worn
Hand washing reminders and technique demonstrations
Food Hygiene Rating (FHRS)
If you sell your food to the public (this may include a restaurant, hotel, cafe, pub, or food truck), it is a legal requirement to display your Food Hygiene Rating Scheme sign in a prominent location on your premises. This is to help potential customers make safe and informed decisions on where to eat.
General Health & Safety Signs
In any workplace, catering or not, you must display a UK Health & Safety Legislation Poster. The sign should be displayed in an area regularly used by all employees, such as a staff room or entranceway. You should also display a 'No Smoking' sign anywhere indoors, but particularly in a kitchen where smoke and smells could contaminate food products.
Food Hygiene Training & Free Food Hygiene Posters From HSE Docs
At HSE Docs, we have over 20 years of experience in the Health & Safety industry. We provide free documents, resources, and courses you can use to ensure the safety of your employees and customers. Download our free food hygiene poster to raise health and safety awareness in your workplace.
If you're interested in upskilling your staff in food hygiene, why not undertake our Level 2 Food Hygiene Certificate? Starting from just £4.99, our in-depth course covers the basics of food hygiene best practices, including personal and kitchen hygiene, cross-contamination risks, food hazards and how to avoid them, and much more. If you have any questions, please don't hesitate to contact our friendly team.