Manufacturing Health & Safety Courses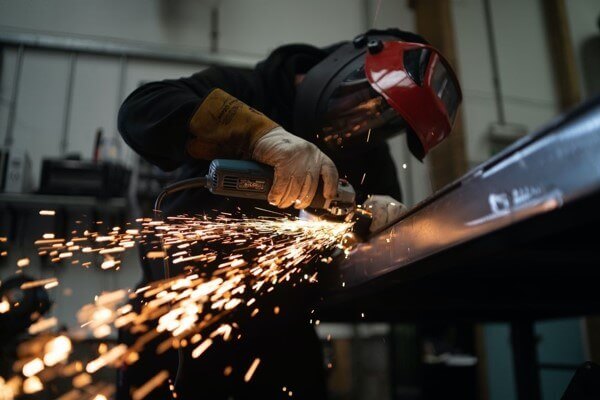 Ensure the safe running of your warehouse with manufacturing health and safety courses from HSE Docs
Those in manufacturing are exposed to several risks each day, from heavy machinery, to dangerous equipment, electrical hazards, and danger from slips and falls. Satisfy health and safety regulations within the manufacturing industry by ensuring you and your personnel have the right knowledge surrounding HSE.
Our fast, efficient, and cost effective online courses are the ideal solutions for individual training or upskilling your whole team. We cover everything from First Aid at Work, to Manual Handling and Working at Heights, and more. Explore our range of courses below, and if you have any questions, don't hesitate to get in touch with our friendly team.
Which Manufacturing Health & Safety Courses Should You Complete?
Manual Handling
This is a course ideal for anyone who handles large packages, shipments, equipment, or other materials within a warehouse environment. This course teaches you about The Manual Handling Operations Regulations 1992, which helps to minimise the risks associated with heavy lifting. Most importantly, this course teaches you how to use the correct lifting techniques, to help prevent muscle strain and injury.
Slips, Trips, and Falls
Where there may be loose materials or uneven floors, there will be a risk of slips and trips. Preventing these is especially important in manufacturing, as there is a presence of dangerous machinery and heavy equipment that could cause harm if fallen into. In the Slips, Trips, and Falls course, we cover how to do a risk assessment, and what control and reporting procedures should be followed to prevent falls from happening.
Working at Heights
Working at heights is a common occurrence within a manufacturing warehouse, which can include the use of ladders, scaffolding, and rise platforms - even if you're only a few metres from the ground. The course will teach you exactly what precautions need to be taken when working from heights, how to choose the appropriate PPE, as well as how to check the equipment before use for potential bugs and damage.
First Aid at Work
The manufacturing sector is high risk, and injuries both big and small are likely to happen. By you and your staff taking a first aid course, you'll ensure your warehouse or factory workers are in the best possible hands to prevent serious injuries. This course will teach you basic first aid skills, CPR, and how to manage a more serious accident, including when to call emergency services. This course is ideal to take if you are an Appointed Person.
Why Choose HSE Docs For Manufacturing Health And Safety Courses?
We offer great value training courses for the manufacturing industry, starting from just £4.99, that can be completed online in just a few hours. Once you have passed all modules successfully, you'll be able to download a valid certificate that is widely recognised by authorities and major employers within the UK. Each course has been specially developed around the needs of warehouse safety managers, following the latest regulations and best practices.
If you're after more information surrounding our health and safety courses for the manufacturing industry, or you are looking for risk assessment templates, explore our website or find out more from our team.
FAQs
What Are Manufacturing Hazards?
Heavy machinery and dangerous equipment
Uneven floors and working from heights
Fires and electrical hazards
Moving vehicles
Potential exposure to chemicals and gas
If you're looking to avoid these hazards within your warehosue or factory, explore our range of comprehensive HSE courses.
Why Is Manufacturing Safety Important?
With all of the risks outlined above present every day within a factory or warehouse, there is an increased risk of injury within your workforce. Safety procedures are one of the best ways to minimise any risks within your workplace, and prevent any accidents from happening - causing injury, which can be severe, or fatal in the worst cases. If you fail to implement the correct health and safety procedures within your warehouse, you risk fines and liability for any accidents that occur. Training courses for the manufacturing industry can be the best way to improve safety awareness within your workplace.
Are the Manufacturing Health & Safety Courses Recognised By Governing Bodies?
Yes, they are. Our manufacturing health and safety courses are recognised by both local authorities and governments. All courses from HSE Docs, where applicable, are widely recognised by authorities, OTVAS, and most corporate employers throughout the UK.