Food Health & Safety Courses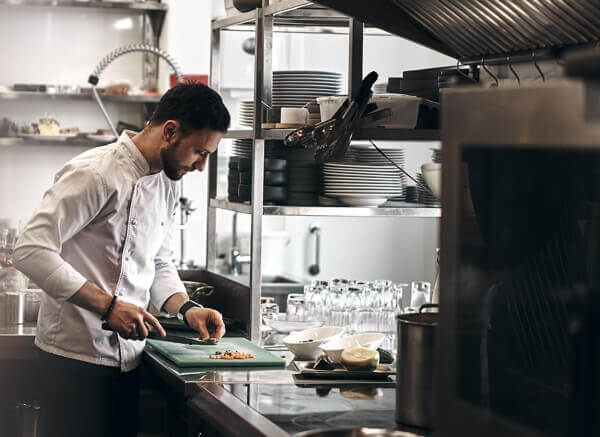 Food Health & Safety Courses
Ensure the safe running of your restaurant or catering service with a range of helpful courses from HSE Docs
Satisfy the local and national authority requirements with our complete range of health and safety courses, specifically chosen for catering and hospitality. We look beyond food hygiene, and provide you with a comprehensive training list which covers food, first aid, manual handling, equality and diversity, and more.
Our courses are great value for money, and are ideal for managers and chefs alike, as well as food runners, and front of house staff. The hand-selected courses cover the most important training needed to ensure the safe running of a cafe, restaurant, or other hospitality service. Find out more about the courses on offer below.
What Courses Should You Complete For Health & Safety in Catering and Hospitality?
Level 2 Food and Hygiene Course is one of the most important courses that your staff should complete to ensure a high standard of hygiene is maintained within your business. By completing this course, you'll gain a great understanding of food safety and keeping workspaces clean, ensuring the health of your customers for years to come. If you'd like to find out more about why food hygiene training is important within your business, read one of our recently published blog posts.
First Aid at Work Course
Working in a kitchen comes with a risk of injury, which most commonly includes cuts or burns. You must ensure key managers and team leaders are appropriately trained in first aid, in order to be able to administer skills where required. We've included the First Aid at Work Course within our catering bundle.
Manual Handling Course
Of course, food businesses don't just cook and serve, which is why we've included a Manual Handling course, which is ideal for staff in charge of unloading deliveries and restocking the kitchen. It is a manager's responsibility to provide manual handling training to all employees, teaching them appropriate handling and lifting techniques to avoid injury.
Equality and Diversity Course
If your business is growing, and you're on the lookout for new staff to join your team, we'd recommend taking the Equality and Diversity Course, also included in this bundle. This course focuses on making you aware that equal opportunities should be readily available regardless of the diversity within the workforce.
Slips, Trips, & Falls Course
Busy kitchen environments can quickly lead to potential hazards that could cause workers to slip and fall. This could look like leaky drink dispensers, and splashing of hot oil or food on the floor. With our Slips, Trips, and Falls course, we offer guidance on how to avoid these hazards in order to create a safer work environment to avoid minor and serious injuries.
Why Choose HSE Docs For Catering Health and Safety Courses?
When you choose us, you'll be able to benefit from bulk-value deals, coming in at just £4.99 when you buy 10 courses or more - perfect for those of you buying for your whole team. If you're after certification in a hurry, our food health and safety courses can be completed in under a few hours, giving you same day certification.
We also offer other great benefits when you choose to train in health and safety in catering and hospitality, including an 85% first time pass rate, unlimited free exam resits, and a downloadable certificate. Where applicable, your health and safety certificate will be recognised by local authorities, major employers, and OTAVS.
FAQs
Which Courses Do I Need To Complete To Ensure Restaurant Health & Safety?
You need to complete courses that cover all aspects of health and safety in a food or hospitality business. This will obviously include Food Hygiene Level 2, but it should also include basic first aid training, and manual handling training. If you have a team of people working for you, we'd also recommend completing some form of equality and diversity at work training - to ensure you are offering everyone equal opportunities, regardless of their nationality or background. We have outlined the specific courses to take in the section above.
Why Is Health & Safety Important in a Restaurant?
Restaurants and other catering businesses are surprisingly full of hazards, whether that be to workers or to customers eating the food you serve. These could include burns, cuts, and food poisoning in the worst case scenario. By training your staff on health and safety, whether that be food hygiene or first aid, you will greatly reduce the risk of these hazards. It is also a legal requirement to ensure staff are 'adequately trained' in health and safety in order to meet regulations and standards. If you don't, you could risk large fines and authorities shutting down your business.
Are HSE Doc's Food Health & Safety Courses Recognised By Governing Bodies?
Yes, they are. Our Food Hygiene Level 2 course is recognised by both local authorities and Environmental Health Officers, and counts towards your overall Food Hygiene Rating. Manual Handling, Equality & Diversity, and First Aid at Work are widely recognised by authorities, and most corporate employers throughout the UK.
Courses