Construction Health and Safety Courses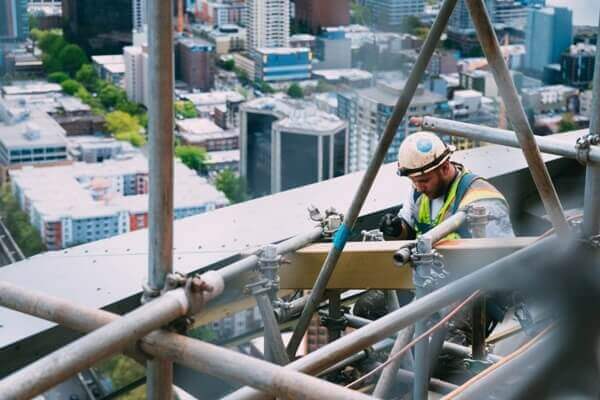 Ensure the safety of staff on-site with our comprehensive suite of health & safety courses for the construction industry
Satisfy the local and national authority requirements with our complete range of health and safety courses, specifically chosen for those of you working on a building site. Not only do we cover the basics, such as first aid or manual handling, but we have courses on asbestos awareness, working at heights, and more.
Our courses are great value for money, and are ideal for site managers and groundworkers alike, helping you satisfy health & safety regulations within your area. Find out more about the construction industry health and safety courses on offer below. If you have any questions, or need general health and safety advice for your construction business, don't hesitate to contact our team.
What Health and Safety Courses Should You Complete For Construction?
Manual Handling
Whether your team is simply carrying delivery boxes, or handling heavy equipment, knowing how to lift and carry properly can help to prevent injury and strains. In our Manual Handling course, we teach you about basic postural awareness, correct handling techniques, how to choose the right mechanical aids, and potential risks.
Slips, Trips, and Falls
This training course will help bring awareness to your team about potential hazards on a site that can cause dangerous slips, trips, or falls. Our comprehensive online course will introduce control measures that will help prevent or minimise the probability of dangerous occurrences being realised., as well as teach how to spot, assess, and report risks.
Working At Heights
Working at heights happens almost daily on many construction sites. Even if you are working as little as two meters off the ground, or if you are working on top of a ten-storey building, you must have adequate training to meet 2005 regulations. Our Working at Heights course will give all the right knowledge to be able to safely carry out tasks at any height.
If you are keen to find out more about when working at heights training is required, read one of our recent blog posts. In the post linked, we discuss the importance of training, whether it's a legal requirement, and what you would learn when undertaking a course.
First Aid at Work
Whilst more in-depth first aid training may be required for senior members of staff on site, having basic first aid knowledge is beneficial for everyone. In the First Aid at Work course, your staff will learn how to manage an accident scene, how to perform CPR, how to offer basic medical assistance to casualties, and how to accurately document medical details and vital information.
Asbestos Awareness
Many of your employees on a construction site may not be aware of the extent of materials that contain dangerous asbestos fibres, causing a potential risk of them being disturbed. This course is especially important if your team is working on premises that were built before the year 2002.
Why Choose HSE Docs For Construction Health and Safety Courses?
We offer a complete suite of health and safety courses for construction, which have been carefully crafted with our 20 years' experience in the health and safety industry. Our packages are ideal when buying for your whole team, with each course working out at just £4.99 per person.
We have a great 85% pass rate for our construction health and safety courses, with most available to be completed within just a few hours - ideal for those of you looking for quick certification. Where applicable, your health and safety certificate will be recognised by local authorities, major employers, and OTAVS.
FAQs
Who Is Responsible For Health and Safety On A Construction Site?
As an employer, you and your main contractors are the ones responsible for ensuring the health and safety of your team - in whatever form that may be. Your staff should also play a part, in reporting risks where needed, using the correct equipment, and following the latest best practice.
What Is The Importance Of Construction Phase Plans?
Alongside health and safety training courses, you must also have the correct documents in place to keep within laws and regulations. Construction phase plans should be completed for all construction projects, no matter how big or small. A construction phase plan outlines everyone involved with the project, all of the possible risks on site, and the control measures that are in place to eliminate them.
If you'd like to find out more about why you should complete a construction phase plan, and what exactly they should include, read one of our informative blog posts - 'What is a Construction Phase Plan?'.
Are the Construction Industry Health and Safety Courses Recognised By Governing Bodies?
Yes, they are. All of the courses from HSE Docs, where applicable, the construction courses are widely recognised by authorities, and most corporate employers throughout the UK. Some of our online health and safety courses for construction are recognised by OTAVS.