What are the Benefits of First Aid at Work Training?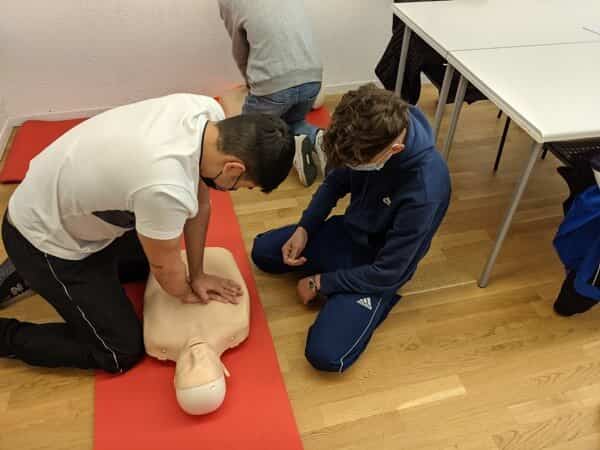 What are the Benefits of First Aid at Work Training?
First aid training is the best way to ensure your staff stays safe within the workplace, but it can bring a number of surprising other benefits to your team too. In this article, we discuss how first aid can create a positive workplace culture, build leadership key skills, and more.
What are the Benefits of First Aid at Work Training? First aid at work training will help your business meet the Health and Safety (First-Aid) Regulations, which state you must provide adequate and appropriate equipment, facilities, and personnel to ensure employee safety. First aid training also helps to reduce workplace accidents and enforces a positive culture within your business.
Read on to find out how your business can benefit from having a trained first aider, as well as how you can get certified.
How Will Your Business Benefit from First Aid at Work Training?
Businesses will benefit from having staff trained in first aid at work in several ways, which we explore below:
Save Lives
This is certainly the most important of all the benefits that come with first aid training. First aiders will learn how to appropriately respond to life-threatening situations and will know exactly how to administer first aid, such as life-saving CPR, to a person who has fallen seriously ill. Having someone on-site with certified first aid knowledge can make a huge difference in medical response time, which could save someone's life.
Legal Compliance
The Health and Safety Regulations from 1981 state that you must have "adequate and appropriate equipment, facilities and personnel to ensure their employees receive immediate attention if they are injured or taken ill at work." While there isn't a specific number specified, having an appropriate amount of first aiders on-site (depending on your industry and risks at your workplace) can help your business meet legal health and safety requirements.
Reduce the Number of Workplace Accidents
First aid courses should cover important topics, such as how to be more safety-conscious, and how to minimise hazards. Your staff will learn how to be more conscious of their surroundings, as well as how common hazards can be avoided. This, in turn, can reduce preventable and repeat accidents within the workplace.
Create a Positive Culture
First aid training for your staff can introduce them to a range of new skills, such as clear communication, leadership, and teamworking. These skills can be adapted to everyday work situations and can benefit your team as a whole. This creates a positive workplace atmosphere where staff works cohesively, whilst supporting one another.
Team Building
Leadership skills are a huge part of first aid training, as delegates must know how to appropriately manage and mitigate risks promptly. Staff must be able to take control in an emergency situation, and quickly assess to decide on the best course of action to take. They must be able to delegate tasks between other members of the team to ensure appropriate first aid can be given as quickly as possible. This could look like one employee calling an ambulance, whilst another employee administers CPR.
How Many People at Work Should be Trained in First Aid?
The number of people formally trained in first aid within your organisation will depend on the number of employees and the risks associated with the job. If you have over 25 employees and work in a low-risk environment, you should have at least one certified first aider. If your staff work in a high risk environment, you should have at least one first aider per 50 employees.
If you have a small number of employees, you may only need an assigned first aid person on site. Your appointed person doesn't need formal first aid training, but they must be able to appropriately manage and delegate first aid tasks in emergency situations. At HSE Docs, we offer a First Aid at Work course that gives candidates the knowledge needed to be an appointed person, including how to approach incidents and the roles of a first aider at work.
Learn more about how many people should be trained in first aid in our recent blog.
How Long Does a First Aid Certificate Last?
In most cases, formal first aid and emergency first aid certifications will last for up to three years. If you want to remain certified, you will need to take a new certification course which can take up to three days in a classroom environment.
On completion, your HSE Docs First Aid at Work certificate is valid for three years and is recognised by local authorities and corporate employers throughout the UK. You will have to retake this course when your certificate expires, however, this won't take more than three hours to complete online.
First Aid at Work Training with HSE Docs
HSE Docs offers a variety of online courses, centred around health and safety within the workplace. The popular First Aid at Work certification is perfect for staff who have been nominated as the appointed person in your workplace. Our course is designed to ensure learners adopt vital skills, and they walk away knowing how to confidently deal with an emergency situation.
The course also covers:
How to survey an incident, and covers a Scene Survey, Primary Survey and Secondary Survey.
It defines RIDDOR and how to assess it.
How to administer CPR and the recovery position.
How to apply dressings and treat secondary injuries.
How to deal with minor illnesses and other secondary conditions, such as nose bleeds, dizziness and sprains and strains.
If you have any questions regarding our First Aid at Work online course or would like to enquire about our other training courses, please contact our team who will be happy to answer any queries.