What Do You Learn On a First Aid at Work Course?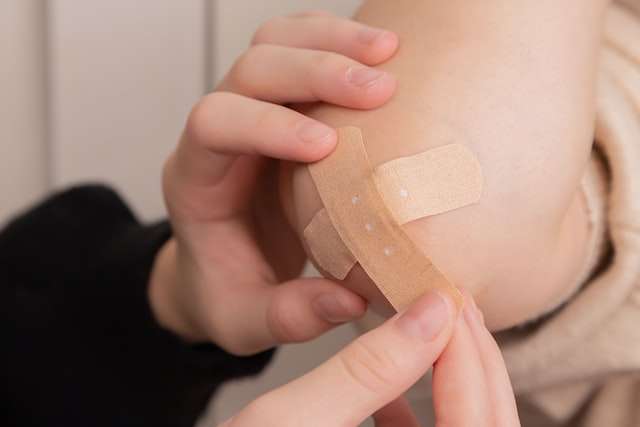 First aid training can be the difference between life and death when accidents happen in the workplace. If you're an Appointed Person, and you are keen to learn what to do in an emergency situation, taking a First Aid at Work course is likely to be on your to-do list. But what do these courses actually teach you? In our latest blog, our HSE experts outline the usual course content, as well as explaining how material differs between courses.
What do you learn when taking a first aid course? A general first aid at work course will cover the basics of first aid, which include:
Performing Cardiopulmonary Resuscitation (CPR)
Safely using a defibrillator (AED)
Dressing wounds & burns
Stopping & controlling bleeding
RIDDOR (Reporting of Injuries, Diseases, and Dangerous Occurrences)
Accident management & when to call emergency services
Read on to find out more about what a First Aid at Work course entails, what you can do to prepare for taking one, and other common first aid FAQs.
What Does a First Aid Course Entail?

First aid courses cover a range of life-saving content that can be applied to many types of workplaces, from general office buildings to warehouses, factories, and construction sites. Below, we've outlined some of the areas that your First Aid at Work course is likely to cover:

Basic First Aid Techniques

Any first aid course will teach necessary basic skills to prepare you for becoming a first aider. The course teaches you how to dress wounds and burns, and stop bleeding. It will also outline how to deal with minor illnesses such as nose bleeds, dizziness, and muscular strains. The course should cover what to do when someone is choking, having difficulty breathing, and at what point emergency services should be called.

CPR (Cardiopulmonary Resuscitation)

Whilst most people have seen CPR performed in films or TV shows, the technique requires formal training in order to perform the procedure correctly. Your tutor will cover how regular chest compressions should be, how deep they should go, and how many to give between breaths. The first aid course will also cover when you should use CPR, as the technique can cause more harm than good if carried out when not necessary. When you attend an-in person course, you may also learn how to use a defibrillator (AED).

First Aid Kits

A first aid course won't just cover advanced techniques, but it will also cover the basics, too. This includes first aid kits, which are a legal requirement for employers to have in every workplace. The course will teach you how to use the kit contents properly, and safely. Depending on which course you choose and your workplace requirements, you may learn how to use a trauma first aid kit, or other specialist or industry-specific medical equipment.

RIDDOR

RIDDOR, also known as the Reporting of Injuries, Diseases, and Dangerous Occurrences Regulations (2013), puts employers and Appointed Persons in charge of accurately reporting workplace accidents and other potentially dangerous occurrences. Your course will cover exactly what types of accidents fall under RIDDOR, as well as how to accurately document, assess, and report an incident. Accurate reporting will help to keep employers accountable for health and safety procedures put in place.
Accident Management

The First Aid at Work course will teach you how to assess an accident, so you'll gain a better understanding of at what point you should call emergency services to the scene. The course will also teach you how to manage the scene of an accident should it happen.
If you are an appointed person, you need to have the skills to delegate tasks in order to manage the injury effectively and without delay. This may look like you performing CPR, and having someone else call emergency services, whilst someone else clears the car park to make room for the ambulance.

How Long Is a First Aid at Work Course?

To become a fully qualified first aider, you need hands-on classroom training with a minimum of 18 contact hours. Due to this, in-person courses usually take place over three days. Online courses are a great starting point if you don't have three days to spare as they are typically shorter. The online First Aid at Work course can be completed at your own pace, usually taking between two and two and a half hours.

How Are You Assessed When Taking a First Aid at Work Course?

How you are assessed will vary depending on the course you take, and the training provider that you choose. If you are attending an in-person course over a day or few days, you will be assessed through observations, questions from your tutor, and how well you do practically. Some course providers however may require you to take an exam at the end of your training.
If you choose to take the online First Aid at Work course with HSE Docs, you'll simply be assessed with a multiple choice Q&A at the end of each module, giving you a chance to solidify your understanding as soon as module content has been covered. There are three modules in our online course, so there are three multiple-choice exams in total.

How Should You Prepare For a First Aid Course?

When you attend an in-person first aid course, it is likely that you will be required to practice CPR, which requires kneeling on the floor, or other medical procedures, which will include moving around. Because of the hands-on nature of a first aid course, we'd suggest wearing comfortable clothing that doesn't restrict your movement, as well as sensible, flat-bottomed footwear.
We'd also recommend getting involved as much as you can when you attend the course - be the first to volunteer for demonstrations and try out techniques. Another great way to solidify your knowledge and understanding is to ask questions. By doing so, you'll leave the course feeling confident that you know everything that is required, and you may also help out some of your quieter classmates in the process.

Get Your First Aid at Work Certificate Online With HSE Docs

If you're looking for a quick, yet comprehensive First Aid at Work course, look no further than HSE Docs. We have over 20 years of experience in the health and safety industry, and we offer a range of health and safety courses to help you improve your skills and expertise, as well as HSE documents for your workplace.
Our online First Aid at Work certification will provide you with sufficient knowledge and skills in order to be an effective Appointed Person within the workplace, giving you the confidence to take control of emergency situations. The course can be completed in just a few hours, at any location, with all course materials are accessible online. Once you have completed the course, the certificate is valid for three years, and is recognised by local authorities and major UK employers.

First Aid at Work FAQs

If you have any questions about First Aid at Work, explore our FAQs below. Alternatively, if you have any questions about our online courses and documents, don't hesitate to get in touch with our team.
Do You Legally Have To Have a First Aider at Work?

Having an Appointed Person, formally trained in First Aid at Work, is a legal requirement if you work in a high-risk environment (think factories or warehouses), or if you have over five employees. For more information on the legal requirements within the UK, read one of our recent blog posts - 'Do You Legally Have to Have a First Aider at Work?'.
Can You Fail a First Aid at Work Course?

Although it doesn't happen often, you can fail a First Aid at Work course. If you don't demonstrate sufficient knowledge, or you fail an exam, you may have to resit part, or all, of the training course. If you choose to get certified for first aid online with HSE Docs, you'll be able to resit the end of module exams as often as needed. You'll also have unlimited access to the course materials to revise topics where necessary.

Is it Difficult to Learn First Aid?

It isn't difficult to learn first aid. Although course material is complex, your tutors, whether online or in person, will give you the best possible advice and techniques that will stick with you if you ever encounter an emergency situation. If you want to expand on the knowledge gained during your training course, there are plenty of helpful resources that are widely available online.

How Often Should You Do First Aid Training?

First aid training certificates are only valid for three years, so you should retrain as needed to maintain an up-to-date certification. This could be every three years, however, guidance recommends taking a refresher course annually.
Retraining will help you stay up to date with the latest legislations and laws, as well as best practices and techniques. By retraining frequently, you will also build up your knowledge and confidence in what to do in emergency situations.
Why is First Aid Important in the Workplace?

It is a legal requirement, under the Health and Safety Regulations from 1981, to have adequate and appropriate personnel so that employees are taken care of if taken ill or injured. Not only is it a legal requirement, but first aid training in the workplace comes with benefits such as increased staff morale, reduced number of accidents, and creating a positive culture.
If you are keen to find out more about the benefits of first aid training for your workplace, you might enjoy our recent blog post. In the post linked, we discuss the benefits of first aid training and how many people should be trained in first aid in your workplace.