What Are The Key Working At Height Rules? What You Need To Know.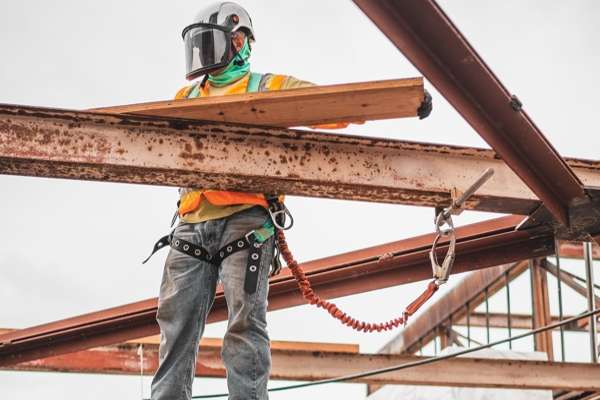 What Are The Key Working At Height Rules? What You Need To Know.
This guide gives you the information to protect yourself or your workers when working at height. All the necessary information for Working At Height is in line with current regulations set in 2005 (WAHR) and is provided so you can do due diligence where you or your team could be at risk.
Understanding the key features that we have laid out for you in this guide could prevent you or your team from serious injury. Safely working at height and understanding key aspects of training and the regulations surrounding it, are crucial for many fields of work.
So, what are the Key Working At Height Rules?
The Key Working At Height Rules is based on common-sense guidelines for employers in assessing the professional competency of employees and the adequacy of equipment used. Height, surfaces, harnesses and tools all play a part in assessments, as does any possible risk of injury to the public.
So, what is Working At Height, and what are the key Working At Height rules put into place to help you and your employees be safe in the workplace? Found out more in HSE Docs' comprehensive guide below.
What Is 'Working At Height'?
Working At Height' is any situation where, if a fall were to take place, the height would play a factor in the cause of injury. For example, you would be considered 'Working From Height' if you:
Need to use a ladder
Are over a hole in the ground, such as known loose floorboards or a manhole
On a fragile surface or roof
On scaffolding or any temporary structure used to restore a property
Need harnesses or ropes to perform a duty
Many different jobs are considered to be 'Working From Height'. Some roles may only require you to work from height some of the time. For all instances, use the following precautions before working from height:
Avoid working from a height where it is reasonable to do so
Where you cannot avoid working from height, make sure that you use preexisting safety measures and equipment that are fit for the purpose
Minimise the distance of any prospective fall by either keeping close to the ground or using suitable equipment in preparation for a fall
Ensure that anyone working from height can safely get to and from their positions of work
Check that the equipment used is suitable for the purposes intended
Assess the risks of falling objects from above. Working from height holds risks from above equal to risks from falling
Have suitable rescue procedures in place when necessary (this includes an assessment of the ability of emergency vehicles to have access to the site)
This list is not exhausted and could apply further to many instances of working from height. It is understood by regulators that people often need to work from a height over short periods of time where no particular precautions are necessary. In these instances, use due diligence as you and your team see fit.
Do The Working At Height Regulations Apply To You?
If you employ people who work from height in your field of work, then yes, these rules apply to you. It is up to those in charge to assess the safety of equipment and competency of those involved in working at height and the training involved if the necessary competency isn't met.
We outline these two key factors below:
Competency
It is your duty to understand these regulations and assess the correct practices and make sure they are carried out by competent people. If training is being carried out, then competency goes up the chain of command. It will be the competency of the trainer, as well as their practices, that needs assessing in this case.
Likewise, you should ensure that everyone associated with the tasks at hand is familiar with the rules of working from height as falls can sometimes implicate passersby or members of the public. It is ultimately the responsibility of the person assessing to ensure that the best practices are taking place.
Training
It is up to the person in charge to make sure that the people working from height are suitably trained. If training is being carried out, then it is up to them to competently carry out the training. According to the Working From Height Regulations (2005), You cannot work from height without suitable training, which is backed by the Health and Safety Act (1974).
If you think you may need Training for Working At Height, make sure to read our other more detailed blog for more information. It offers a full spectrum of information and guidance for anyone wanting to train to Work At Height.
To get certified in Working From Heights, complete our online training course. Our courses start at just £4.99 and can be completed in just a few hours. You get free resources and resits too.
What Are The Hazards Involved With Working From Height?
Assessing Initial Factors
When assessing the area which will be worked on, various key factors should play a role in the safety of the surface or structure being used. Injury or death often occurs in instances of roof repair being carried out on farm buildings, warehouses or dilapidated dwellings for instance. Construction sites are often high-risk areas too, where structural support up high might not yet be fully available.
Get a Free Risk Assessment Template from us by following this link. HSE Docs has many free resources to help you safely run your business. We also have a helpful guide available on our Youtube channel to guide you through the process of Risk Assessment.
The following surfaces are also particularly high-risk, and should be addressed by your employer:
Glass or plastic roofing
Roofs with lighting
Rotten wooden roofing
Roofing on temporary structures
Unsafe surfaces lead to falling, which is the main cause of harm when working from height
Assessing Further Factors
Some factors are circumstantial and can change in a short period of time, such as:
Current or recent weather conditions
Accessibility to the work area by emergency vehicles
Objects leaning nearby that could slip and impair those involved
Objects that may fall from a greater height
As the above factors often change on a regular basis, it is good practice to carry out regular risk assessments as conditions change.
How To Work From Height Safely
Measures taken to ensure safety at height can easily be understood in two key categories which ensure your safety and the safety of those around you. Understanding these two areas of safety can greatly benefit not only you and your team but members of the public too.
Personal Safeguards
This category applies to the person who is actively at height. Proper use of harnesses, ropes, ladders or scaffolding would fall under this category. A good rule of thumb is the guidelines provided by the manufacturer, as these often fall within the remit of government guidelines.
Personal safety would be deemed acceptable if the equipment provided is deemed as follows:
Suitable for purpose
Strong enough for the individual who uses it
Fits and is fitted with the individual in mind
Prevents and provides adequate protection if a fall was to occur
Doesn't act as a hindrance to itself
Collective Safeguards
Collective safety equipment should always be practised where it is reasonable to do so, such as areas where multiple people are working at height or the general public may be at risk. This should be assessed before any work has begun, this includes, but is not limited to;
The correct installation, use and maintenance of scaffolding
The correct installation and use of Fall Arrest Systems, and provisions for clearance of swing zones if necessary
In the use of a fall mat or similar, that it is fit for purpose and on stable ground
The use of safer equipment is not practicable
As you can see, the suitability of the equipment used and its condition is key to safety when working at height. You can find out more about The Provision And Use Of Work Equipment Regulations (1998) here.
Key Tips For Working At Height For Employees
As an employee, you have a duty of care to yourself and others to ensure general safety measures are met. It may be your legal responsibility to consider the following whilst Working At Height:
Provide your employer with a brief assessment of any safety hazard you may encounter, and how it may affect you or others around you
To use any equipment provided safely and in accordance with its intended purpose.This should also be completed in line with any training and instructions that have been provided along with this equipment
You also have some legal responsibility to report the following based on training and understanding of general practices:
Any misuse of equipment as instructed by your supervisor
Any hazard that has been ignored on behalf of your employer or missed through their own assessments
Misuse of equipment or lack of competency by other members of staff
If you are unsure of how to bring up these issues with your employer, you can do so via a legal representative. You have a legal right to find out about your safety and the measures taken to ensure your safety at work. Your employer must consult you as to your safety whilst at work as per these government instructions.
Get Certified To Work At Heights With HSE Docs
Here at HSE Docs, we provide training to employers about how best to work at height and offer accredited training with 20 years of experience in all fields of the industry. You can complete our online Working From Heights Course from home and it shouldn't take up more than 3 hours to complete.
This course is recognised across the U.K. and is intended to give you tools to be able to assess safety and equipment relevant to your trade. You can find other relevant documents on our website which should provide you with key health and safety documentation.