Do You Need Working at Height Training? What You Should Know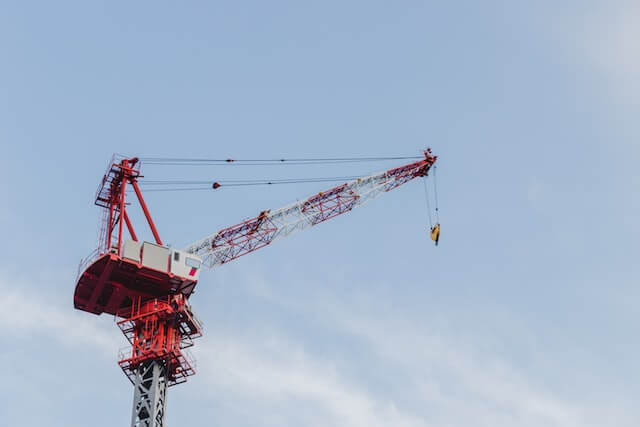 When working where there are risks present, such as at heights, you must ensure that you and your team are appropriately trained in order to avoid breaking rules and regulations, and to stay safe. But, is working at height training a legal requirement? In this article, our health and safety team discusses when and why you'll need working at heights training, as well as the best way to get certified.
When do you need working at height training? Any form of working at heights, whether that be working with ladders, or working with cranes and aerial lifts will require some degree of working at height training. This could be in the form of a basic explanation from senior team members, or by undertaking a certified online course from a reputable training provider.
Read on to find out when you need training to work at heights, why you should get training, and how you can get certified for working at heights online.
Can I Work At Height Without Training?

No, you can't. According to the 2005 regulations, any workers who are about to start a project that could be classified as 'working at height', should be properly trained for the job at hand. Guidelines state that anyone working at heights must be 'competent', with 'sufficient skills and knowledge'.
The amount of training, or at what level, isn't specified in the regulations, however, workers must be trained in relation to their job role and the severity of risks present. For example, if one of your employees simply uses a ladder as part of their work, this won't require as much training as someone working on top of a ten-storey building via a harness and lanyard.

What Is Classed As 'Working At Height'?

Working at height is a vague subject area, and could include anything from working on scaffolding or a crane, or working somewhere where there is a risk of falling through a fragile surface. There is no specific measurement of what is classed as a 'height', but falls of two metres or less can cause serious, lifechanging injuries. 'Working at heights' could include:
Working on a roof of any sized building
Using a ladder, even if only a few metres off the ground
Working near or on top of fragile surfaces and materials
Using trestles for work access
Working on or erecting scaffolding
Using an aerial lift, safety harness and lanyard, or a crane

Why Do You Need Training To Work At Height?

The Work at Height Regulations 2005 is in place to prevent injury, or even death for people working at heights, caused by falls. The law states that employers are in charge of ensuring that the people working at height are competent enough to do so. This will include having sufficient knowledge, experience and training before starting the task at hand. The best way to ensure people understand how to prevent injury when working from height is through a certified training course.
By attending a training course, such as the Working at Heights Online Course from HSE Docs, you and your team will be able to understand all of the risks associated with this type of work, as well as the suitable control measures to take to increase safety on the side. We discuss more in detail below.

How Long Does Working At Height Training Last?

The length of time it takes to complete working at heights training will entirely depend on the course and your chosen provider. On average, an online course will take you anywhere from 2-3 hours, depending on your learning speed.

How Long Does a Working At Heights Certificate Last?

Working at heights certifications are usually valid for three years, and will need renewing to ensure that the workers keep within rules and regulations. It is a good idea to get re-trained to refresh your knowledge on the latest best practices when it comes to working at heights.
What Does Working At Heights Training Cover?

Working at heights courses cover several areas, including:
The current legislation and laws, including the Health and Safety at Work Act 1974 and 2005 Working at Height Regulations
How to choose the right safe access equipment for the job at hand, including how to carry out basic safety checks before use
How to complete a risk assessment and which control measures to implement
The latest best practices that should be followed
The course will also cover potential hazards when working at height, as well as the correct control measures to implement, which we cover in more detail below:

The Hazards Of Working At Height

Many hazards that come with working from height, these include:

Falls

One of the biggest causes of major injury when working from a height are falls. This might sound obvious, but even if you are only working a few metres off the ground, serious accidents could still happen, resulting in bruises, broken bones, or worse. Falls can also happen by treading on fragile surfaces that can't hold the weight of a person, which is why PPE and harnesses should be considered.
If you're looking for comprehensive training around preventing falls, you may want to explore our online course for Slips, Trips, and Falls. The short online course will give you the knowledge needed in order to prevent and manage hazards within the workplace, reducing the risk of injury and staff downtime.

Dropping Equipment

You may think that dropping equipment doesn't result in injury, but equipment poses a risk to everyone, even those not on site. Pedestrians or even groundworkers located underneath where work is being done are at risk of having equipment falling on them. Dropped equipment at a large height could cause a number of injuries, being fatal in the worst cases.

Suitable Control Measures For Working At Heights

Preventing the risks mentioned above is vital to ensure you don't cause unnecessary injury to your staff or the public. Training will give you a better understanding of which control measures to implement, which we've outlined below:

Carry Out Risk Assessments

Before you start any project, no matter how big or small, you should carry out a risk assessment. This important document will encourage you to carefully consider each risk associated with working at heights, ensuring that you have the control measures in place to minimise all risks on site.
If you're looking for free risk assessment templates, look no further than HSE Docs. We have a suite of risk assessment templates, suitable for most industries, free for you to download from our website.

Work From The Ground

Many injuries and risks can be minimised by working from the ground. If it's possible to use plant equipment on the ground then do so to reduce the need for training, heights working equipment, and comprehensive safety precautions.

Use Suitable PPE

Although not often used when you have the right equipment, providing protective gear for your workers will help you stay within the law and prevent staff injury should the worst happen. Ensure all workers are using hard hats, harnesses, anchor points, and other fall restraints when working at heights.

Select the Right Equipment

Ensure that whoever is putting together the equipment (such as erecting scaffolding) is trained to do so properly, and work is checked by another person before use. Carry out thorough inspections of equipment before the project starts, checking for damage, and keeping a look out for those that aren't fit for purpose. Where possible, implement safety measures that help to minimise how far workers can fall, through the use of barriers, airbags, or netting.
Prevent Falling Objects

The people up in the air aren't just the ones at risk of injury when working from heights. You may be working above a public area with high footfall, or on a building side with groundworkers below. Precautions must be taken to prevent falling objects, particularly heavy equipment or materials. This should be done by blocking off the area directly below where the work is being carried out, as well as using scaffolding or nets underneath where possible.

Get Certified To Work At Heights With HSE Docs

At HSE Docs, we have over twenty years of experience in health and safety, and we've used our expertise to develop a number of certified training courses, all of which can be done from the comfort of your own home. Our Working at Heights Online Course recognises the national measures for working at heights safely, and gives candidates the knowledge to plan, select and use the correct equipment, whilst following best practices.
The short course can be completed in under three hours and gives trainees a valid training certificate that is nationally recognised by authorities and UK employers. Find out more by exploring our H&S courses and documents, or by getting in touch with our friendly team.